Iowa Celebrates 150 Years!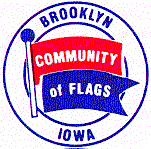 ---
~~Iowa's Sesquicentennial Flag Maker~~
Housing
Businesses

Nat'l Environmental Award Winner!

Historic Sites
Schools
Dollars for Scholars!
Organizations
Profile
Location
Services
Construction
---
Note: The remote URL for this document is temporarily inaccessible. In the meantime, we have substituted a page from our archives. All rights retained by the original author.
---